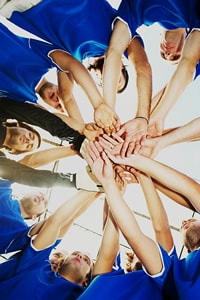 Bob Moore Auto Group
About Us
Our vision is to provide opportunities that fulfill dreams. Our mission is to embrace the automotive industry while being a people-focused company, which is known for the way we treat our customers.

We are committed to being great!
History
Bob Moore Auto Group was founded by Mr. Robert W. Moore in the early 1950's, with the guiding principles of hard work, great customer service, honesty and respect.

A tradition that continues to this day, under the leadership of Bob Moore's son, Mr. Mark Moore, President and CEO.
Our Philosophy

Bob Moore Auto Group seeks to align itself with organizations where it can truly have an impact on our community, children health and wellness.

We look to align our strength and expertise with non-profit organizations and projects where our contribution can make a visible difference.
Our Strategy
Our strategy is to evaluate every request for sponsorship and partnership, according to the following criteria.
Tangible benefits associated with partnership or sponsorship.
Positive exposure for Bob Moore Auto Group brand.
Opportunity to create long-term value.
Potential for long-term, sustainable partnership with organization.
The Cause
Must have positive community impact.
Must be a cause we feel strongly about.
No political organizations.
No individual requests.
No organizations discriminating against race, gender, religion or sexual preference.
Generates awareness and goodwill.
Exclusivity
We take pride in taking a lead role in our partner and sponsor opportunities, exclusive sponsorship opportunities are preferable, to those with other big name sponsors.
"Investing our resources where they can have the greatest impact."
Opportunity for Participation
Sponsor participation can take many forms, donations, volunteers, promotional items, etc.  Opportunities where we are face-to-face with the target audience can make for a greater impact.

Recognizing the benefit of collaboration and value-exchange with our   community partners, as well as social responsibility we become involved.  We strive to be a key contributor and make a visible difference through our participation.We encourage our employees to use their time, skills, and energy as volunteers, and seek collaboration opportunities.
Size of the Audience
Naturally the size of the audience is important, and remember the size of the audience is not the same as the number of participants at an event.

For example, a tournament may have more exposure through ads and tournament websites, than it has in actual participants.  The larger the audience, the more effective the advertisement.
Advertising
Studies have proven people react to advertisement on a very individual level, and no single media is universally effective.  Therefore, sponsorships which utilize multiple advertising medias are preferred.  More media equals greater opportunity for messaging, as well as name and brand recognition.
"Action is the foundational key to all success."  - Pablo Picasso
How Will Success Be Measured?
To know if our efforts have been effective, how will success for the sponsorship or partnership be measured?  What are the goals of this sponsorship and how will we know when they have been met?