6-Speed Automatic with Manual Mode
Apple CarPlay™ / Android Auto™
2019 Jeep Renegade vs. 2020 Kia Soul
Drivers near Oklahoma City and Dallas want a compact SUV that can do it all, but the options in this segment have been endowed with vastly different capabilities. So, why would you choose the Jeep Renegade vs. Kia Soul? Here's what you need to keep in mind:
The Jeep Renegade offers 4×4 in every trim level, while the Soul wins out on fuel economy.
The Renegade Trailhawk® offers 8.7 inches of ground clearance. The most you can get with a Soul is 6.7 inches, but the Kia accelerates more quickly.
The Renegade comes standard with cruise control, keyless entry, and an automatic transmission with a manual mode.
The Kia Soul, on the other hand, comes standard with Apple CarPlay™, Android Auto™, and a 7-inch touchscreen.
You've seen some of both models, but before you venture out to any new and used car dealerships near OKC, you'll still want to compare the Jeep Renegade vs. Kia Soul in-depth!
Performance: Jeep Renegade vs. Kia Soul
If you value off-road confidence and capability, you'll probably prefer the Renegade. If you want superior fuel economy for your drives through Dallas or OKC, you'll probably prefer the Soul:
Right from the start, the Renegade offers more 180 hp and 175 lb-ft of torque. The Kia Soul only offers 147 hp and 132 lb-ft of torque without upgrades, but its most powerful engine delivers 201 hp.
The Kia Soul has an advantage in fuel economy, with 25 mpg city and 31 mpg highway, starting. The Renegade gets 22 mpg city and 30 mpg with front-wheel drive.
The Soul doesn't offer any trim that's comparable to the Jeep Renegade Trailhawk®, but the Kia accelerates more quickly than the off-road focused Renegade.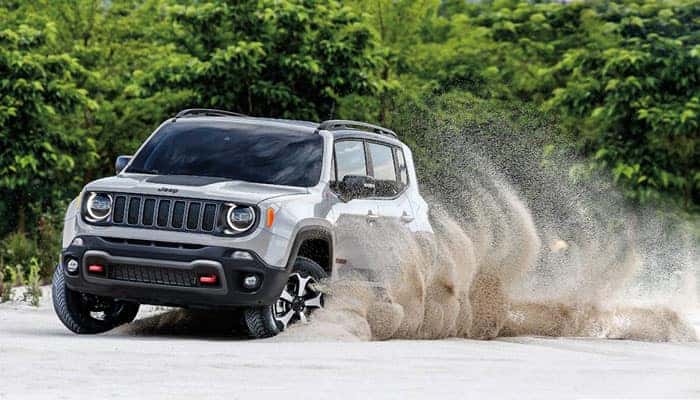 ---
Standard Features and Options: Jeep Renegade vs. Kia Soul
Both the Kia Soul and the Jeep Renegade offer a range of similar features. To list just a few examples, both come standard with daytime running lights, a built-in backup camera, and power windows.
The differences between the two models say a lot about the kind of driver they're trying to attract. Here's what you'll get with the Renegade that you'll have to pay extra for in the Soul:
Cruise control
Keyless entry
Push-button start
Heated mirrors
6-speed automatic transmission
Manual driving mode
Wondering what the Soul offers that the Renegade lacks? Here's what you should look for on your test drive:
Apple CarPlay™
Android Auto™
7-inch touchscreen
Privacy Glass
At just $17,490 MSRP, the Soul starts with a lower price tag than the Renegade. So, you'll have more room to maneuver when it comes to upgrades and options.
It's also worth pointing out that the Jeep Renegade looks far more like a classic SUV. The Soul might stand out with a unique shape, but if you're looking for more rugged visual cues, you may prefer the Jeep.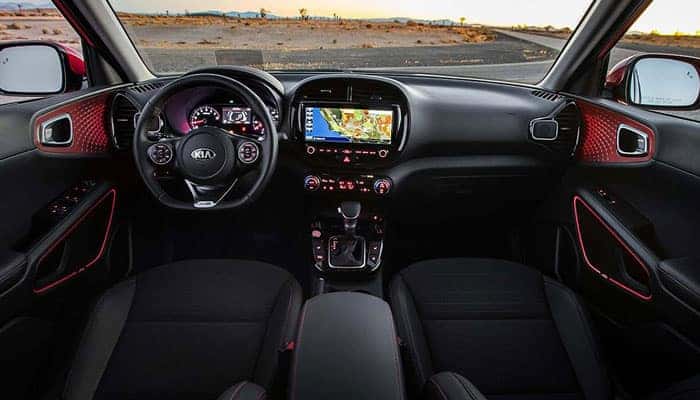 Get Behind the Wheel at Bob Moore Auto Group!
You've compared the Jeep Renegade vs. Kia Soul. Now, visit one of our new and used car dealerships near OKC, and test drive both with the Bob Moore Auto Group.
Find a new Jeep Renegade for sale in our Jeep inventory, or find a new Kia Soul for sale in our Kia inventory! No matter which you choose, you'll want to compare buying vs. leasing to find the best path forward. Then, start an adventure you'll never forget with our financing team. You can also learn more about the Kia warranty coverage, or explore Jeep in-brand comparisons like the Wrangler vs. Wrangler Rubicon!