Value Your Trade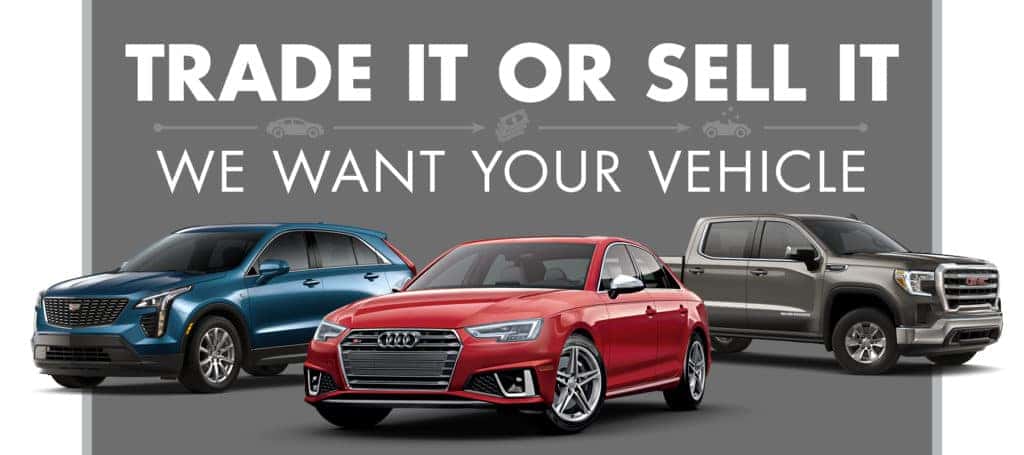 .
Your Bob Moore dealerships want your vehicle. With trade-in values at a historic high, the time to upgrade to new is now.
Even if you don't buy from us, we still want to buy your vehicle and we'll make you the same top-dollar offer.
Trade In Trade Up
It's a win-win situation with a new vehicle or cash in your hand!
If you're thinking about getting a new or better vehicle, consider how trading in your current ride can help you. Here at Bob Moore Auto Group, our goal is to help you get into a vehicle that fits your needs while offering the best deal on your current car, truck, or SUV.
Find Out How Much Your Vehicle is Worth
You don't even have to bring in your vehicle to get an idea of how much you can get out of it. Just visit our page and put in some information about your vehicle. We'll let you know the value with a Trade In Trade Up offer. The amount we assign to your vehicle doesn't change whether you're using it as a trade-in or selling it.
Once you have an offer, you can bring the vehicle in with the offer. We'll check the vehicle over to make sure it matches what was entered online. Then we'll either take your vehicle as a trade for a new model or hand you cash.
Why Trade Over Selling Privately
If you're thinking about selling your vehicle, you may wonder why bring it to Bob Moore Auto Group. You could find a private buyer and sell it yourself. When you try to sell it on your own, you have to deal with various buyers, many of whom will be trying to negotiate the price lower to benefit themselves. You may have to show the vehicle to multiple people, which takes time from your busy schedule.
When you trade or sell your vehicle to Bob Moore Auto Group, you get a fair offer based on the value of its current condition. You bring it in on your time and walk away with cash or drive away in a new vehicle.
We're always looking for quality used vehicles to add to our inventory. This is why we can afford to take your trade and help you get into a newer model that is better suited to your needs.
What Do I Need to Do to Trade In and Trade Up?
All you have to do is visit our website and put in the information about your vehicle. The more information you have, the closer the offer will be. Once you get an offer, just bring it by and we'll confirm everything. You have 7 days to accept the offer. You get to decide whether you want cash or to use it as a down payment on another model.
If you decide to use it as a trade, you can check out our current inventory. Go online to see what we have or stop by to take a test drive.
Let Bob Moore Auto Group help you get the most out of your current vehicle. Whether you're trading it here for a newer vehicle or going somewhere else, we are ready to show you how to trade in and trade up.