If you've ever been in a position where your car won't start, then you already know how important it is to know how to jump start a car. The Bob Moore Auto Group has assembled everything you need to know in the space below. Find out how to jump start a car the right way by reading on!
The Proper Way to Jump Start a Car
When you're getting ready to jump start your car battery, you should find a set of jumper cables and another vehicle you can use to get a jolt. Once you have this equipment, simply take the following steps to get back on the roads near Tulsa or Oklahoma City:
Take the car with a good battery and park it close to the dead vehicle, so that their hoods are almost touching. Engage both parking brakes and make sure both vehicles are turned off before you go further.
Open both hoods and locate each battery. In some cases, the battery might be covered by a plastic hood.
Identify the positive (red) and negative (black) terminals on both batteries. If they're clean and free of corrosion, you're ready to proceed.
Connect the red clamp to the positive terminal on the dead battery
Uncoil the battery cable and hook up the other red clamp to the positive terminal on the live vehicle.
While you're facing the good battery, connect the black end of the cable to the negative terminal.
Going back to the vehicle with the dead battery, connect the last black cable clamp to a flat, unpainted metal surface on the car's frame.
With all the connections in their proper places, start the engine of the working vehicle, and let it run for a few moments. This will pass a charge to the once-dead battery.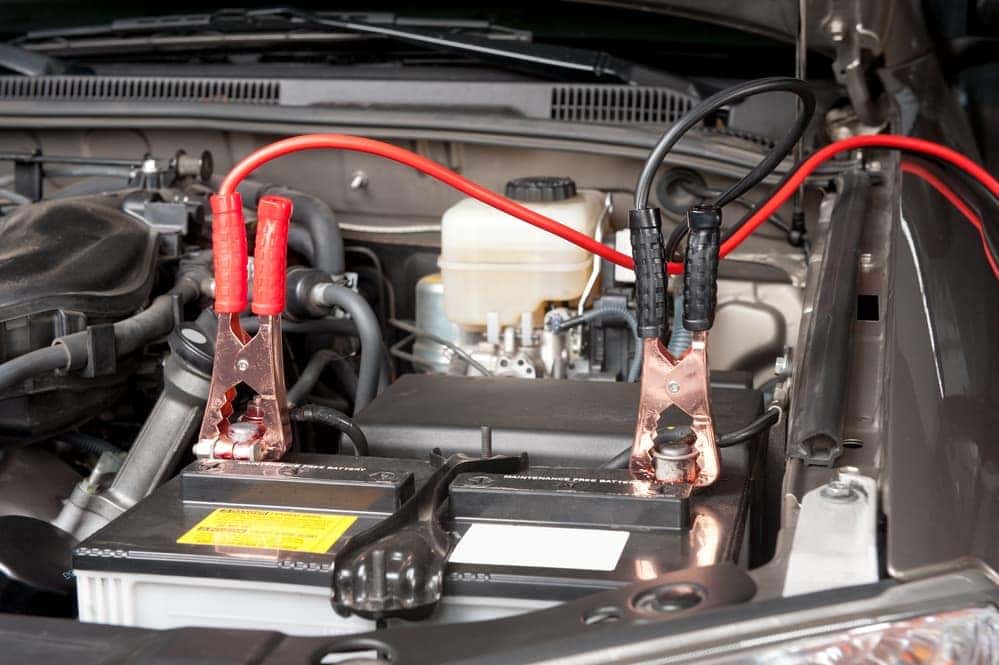 Try to start the car with the dead battery. If your car won't jump start, you might need to call a jump start car service like AAA.
If the car starts up right away, carefully remove the cables, reversing the order in which you connected them. Don't let the ends touch until all parts have been removed.
The car that was just jump-started should run for ten minutes or more, so the battery can recharge. The other car can be shut off right away.
More Battery Tips and Tricks
If your jump start doesn't proceed as planned, then you might be understandably frustrated. Take advantage of these tips to narrow down the range of possible issues and figure out how to get back to your life:
Perhaps you try to start the car, but you're only hearing a clicking sound. In these cases, your battery is probably fine, but your starter may be malfunctioning.
If you're able to get your car's electrical systems to turn on, but your engine still won't start, you might be facing an issue with your ignition switch, starter, or fuses. A completely dead battery might also be at fault.
If you're able to jump start the car, but the battery dies again soon after you get on the road. You might be dealing with a weak alternator.
Ready to solve your problems? Schedule service with your local Bob Moore Auto Group service center. Find a location near you today!
Turn to the Bob Moore Auto Group for Battery Service
Whether you need emergency maintenance or you're scheduling a routine oil change, the experts on our team can help! Our Oklahoma car dealerships and service centers are accessible from as far out as Dallas, and it's easy to set up your visit online. We're also a top source for replacement batteries and auto parts in OKC! Contact us if you have any questions like what you should keep in your vehicle in the event of an emergency, how often to change spark plugs, when to replace your tires, how to check your oil level, or would like information on our current pricing. We can also help you compare buying vs. leasing or show you the Jeep Gladiator engine before you stop in!
More from Bob Moore Auto Group
The new 2021 Cadillac Escalade is a three-row SUV built for first-class passengers. Luxe features and paneled interior gives this SUV an exclusive look. If you're a Dallas driver who wants an upgraded commute, the 2021 Cadillac Escalade calls your name. Get a first look at the new Cadillac Escalade at Bob Moore Auto Group and see…

The much-anticipated return of the legendary Ford Bronco has Ford loyalists, Oklahoma City off-road enthusiasts, and everybody else in between quite excited— especially us! The new Ford Bronco release date is set to be in mid-2021, though hopeful buyers can reserve a Ford Bronco for sale online now. Read on below to learn more about what…

The full new GMC lineup is known for its rugged flexibility and wide selection of interior features and innovative technology, and that reputation is clear as the vehicles turn heads around Norman. Most clearly is this versatility evidenced in the 2020 GMC Acadia configurations. Four exceptional options bring you unrivaled adventurous SUVs to anywhere…